Latest score in any of these games?
What happens if 3 teams finish on the same points and each of the 3 teams have beaten one of the other 3 teams ? Does it go to score difference?
Syls beat Fins by 1. Fins were 3 up at half time and Flynn got a beauty of a point and a goal soon after to put them 4 up with less than 10 to go. Syls went straight down and got a penalty and kicked for home. Ref played a lot of added time and Syls got a winner in the end
Fins keeper kicked some good frees
Score difference between those 3 teams only. The scores against the 4th side don't count.
Is that confirmed as the rule ? Could be a possibility in a few groups
For the purposes of Rules 6.21(4)(c) / 6.38 T.O. 2020 the following shall apply to all League/ Championships and Leagues run on a league basis;
When teams finish on equal league points for Qualification for the concluding stages, or for promotion or Relegation (championship only), the tie shall be decided by the following means and in the order specified;
(i) Where two teams only are involved – the procedures as outlined in Rule 6.21 (4) (c) T.O.2020 shall apply.
(ii) Where more than two teams are involved – Scoring difference (subtracting the total scores against from the total scores for) of the games where the teams tied on points played each other only. In the event that a team involved in a tie consisting of more than two teams had their finishing points total affected by a loss of points against that team on a proven objection, forfeiture of points for breach of rule / regulation, or by loss of points for failing to fulfil any fixture in that competition, that team shall not be included in any play-off and shall deemed to have finished in last place in whatever means is used to decide the tie. The procedures outlined in Rule 6.21 (4) (c) T.O. 2020 shall then be used to separate the remaining teams in the tie.
Football Cham
I feel like you have this rule on permanent copy and paste
, every year without fail it surprises people
Still would not be enough for some people.
Could we not just have a dedicated thread for Dublin Gaa Regulations? All the answers without a need for any questions.
Anyone see Shane Carthy play ,and if so how did he do ??
Senior B Round 2 Round-Up
Cuala beat Naomh Mearnog fairly handy 4-18 to 1-13 in Dalkey. Luke Keating top scored with 1-6 (0-2f). Con O'Callaghan scored 1-4 with 1-2 from play and Peadar O Cofaigh Byrne and Jamie Keenan got the other goals. Conor Mullally scored from 0-3 from wing back. Niall O'Callaghan (younger brother of Con) with 0-2.
Shane Kavanagh got the goal from Mearnog while former Dublin u-20 Karl Lynch Bissett tallied 0-2. Shane Carthy didn't feature in the match. Not sure if he is injured at the moment or not.
Ballybougal defeated Trinity Gaels 1-17 to 1-13. Eoghan McPhiliban top scored with 1-5 and the always consistent Gerry Seaver ended with 0-7.
Templeogue defeated St Sylvesters. Goald from Niall Scully and Killian O'Gara. Brigids beat Annes with Paddy Lysaght's goal complimented by the likes of Philly Ryan, Sean Egan and Mal Tighe. Scott Fulham with 0-5 for Annes.
Finally Olafs got a huge victory over Fingal Ravens. David Byrne with the green flag
https://www.dublingaa.ie/news/go-ahead-dublin-senior-2-football-championship-round-up
Best run parnells have had in championship in years, they are rebuilding nicely after a few rough years of relying on outsiders coming and going to be competitive
Packing in the Hurling may have helped them too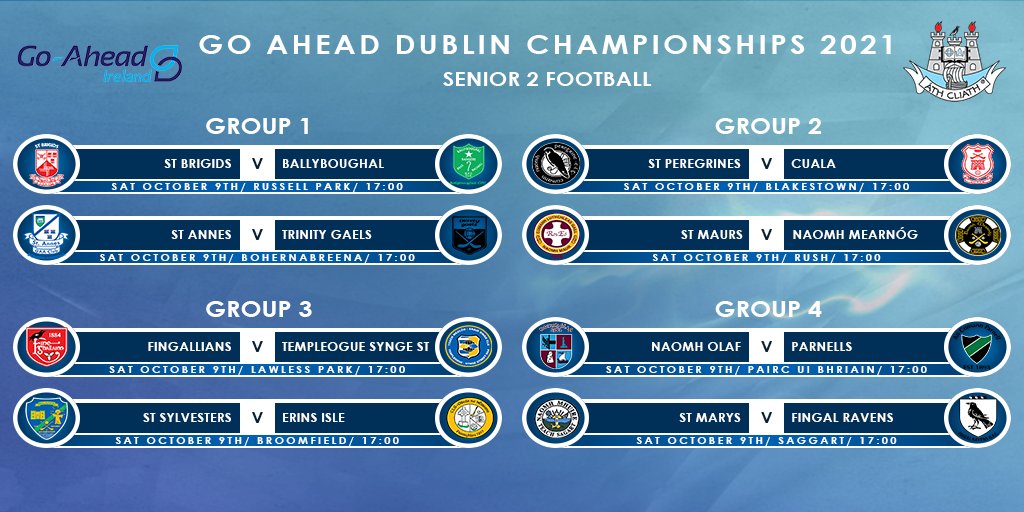 Dublin Senior B Football Championship Round 3 predictions
St Brigids v Ballyboughal: Brigids
St Annes v Trinity Gaels: Annes
St Peregrines v Cuala: Cuala (Both could be playing their 2nd teams but I'll still favor Cuala)
St Maurs v Namoh Mearnog: Naomh Maur
Fingallians v Templeogue: Templeogue
St Sylvesters v Erin's Isle: St Sylvesters (Very close though)
Naomh Olaf v Parnells: Naomh Olaf
St Mary's Saggart v Fingal Ravens: St Mary's Saggart
Annes 2 15 to 0.3 up at 2nd where break
Maurs are through to a quarter final. Ciaran Archer got a couple goals.