I know the 2020 u20 is still happening but how are dubs fixed for u20 in 2021?
Training away with different mgmt team I think to 2020
Much crossover? Should be a fair few i think which any help prepare. When this years starting?
This started last night, Laois v Westmeath sounds like it was a cracker
This is the 2018 minor team that won Leinster
Dublin
Jack Lambert (Ballyboden St Enda's)
Kevin Byrne (Clontarf)
Ciaran Hogan (St Jude's)
Finn Murphy (Naomh Olaf)
Eoin Carney (Erins Isle)
Alex O'Neill (Round Towers, Clondalkin)
Ian O hEithir (Ballinteer St John's)
Donal Leavy (Naomh Olaf)
Darragh Power (Fingallians)
Conor Murray (Castleknock)
Pearce Christie (Ballyboden St Enda's)
Ciaran Foley (Naomh Olaf)
Liam Dunne (Raheny)
Luke Swan (Castleknock)
Dara Purcell (Kilmacud Crokes)
Tipp lead Waterford 2-05 to 0-06 at halftime. Good game. Waterford a bit wasteful.
Thought it was a cracker of game
Hurling is so much better to watch most of the time
Offaly vs kildare tonight. Winner plays Dublin?
Full Time
Kildare: 1-16(19)
Offaly: 2-25(31)
Good to see Offaly producing decent players again. Obviously lets hope they aren't that good considering we are playing them next.
Probably time to start talking back who is back and the new names on the panel for 2021 with the with the Leinster u-20 hurling semifinals 2021 happening tomorrow. Galway v Kilkenny is being shown on delay on tg4 while the Dublin v Offaly match is on tg4's youtube.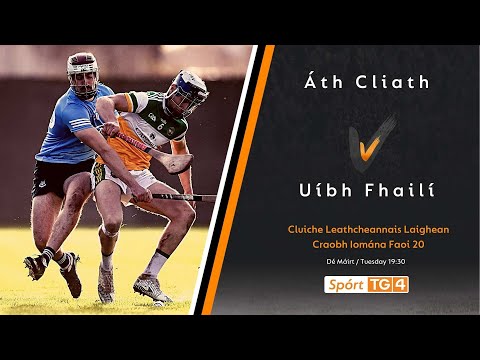 The first of 2 meeting these counties have in a couple days against each other with 2021 Leinster u-20 football final on Thursday.
Love the way panels are top secret until the first team is named, we don't even know for sure whether Swan is involved or not, suspect not.
It's unnecessarily stupid, if other counties know the squad, so what.
Our U20 squad in whole for 2021 was released on the website during the week, no questions as to who's involved.
With the competitions so bunched up together I doubt it. That would be him playing on a Tuesday than a Thursday several weeks in a row if they progress, This is why they try not to play the u-20 football and hurling competitions at the same time but of course this year they don't have much of a choice.
Huge game this, good scoring for Offaly v Kildare. They'll come into this nicely primed. We should have a decent lineup but it doesn't always translate minor/u20 as we know, especially if you lose a few players. Should still have some good forwards, the most obvious of which is Dara Purcell but Liam Dunne, Christie, Foley, Conor Murray and McSweeney to name a few who have stood out in the past. Frist game out can be tricky so fingers crossed management have the lads setup and ready.