I've been loving you a long time,
Down all the days, down all the years.
I have loved everything about this masterpiece for over 40 years.
The artwork, the vibe, the melodies, the fact it is only 36 mins long, das hele shebang.
A good read that.
Bartos' take on how the band developed is quotable (although probably debatable by the band members who continued on after he left)
"Although he still deeply loves his time in the classic analogue era of the band. "I loved being a man-machine," he says. "But we just lost the man."
I ordered an autographed copy a few months ago. Can't remember when its been released
Reminded for some reason of Fontaines DC when listening to this track.
The Stones could play alright. The showbiz bs turned me off and blinded me to their music for years.
Reacquainted myself with some of their back catalogue recently and enjoying it.
The Stones were great. But I've heard the songs too many times now (the good ones anyway), to the point where they don't mean anything to me anymore. I recognize it's good music, but most of it just feels lifeless to me now from being overplayed.
I feel the same way about the Pixies (at one time one of my top 5 bands), so it isn't just the stones.
Fontaines D,C, are an exceptional band
I can hear some Fontaines in there also !.
Good music.
As an aside I tend to listen to full albums at a time when playing my own choices so to speak.
Have not as yet got fed up of The Beatles for example as I can select from so many good albums over time.
I have played the three (to date) Fonatines DC albums so often I had to give them a break recently. !.
When I buy something new I tend to binge play the album and then have to leave it for a while
Seen them twice in the last month, once in Iveagh Gardens and then in Finsbury Park, London.
The opening track of the latest album is brilliant especially the drums
Saw the Iveagh gardens and have tickets for Vicar Street. They are rapidly becoming near enough the best Irish band ever. 3 outstanding albums in 3 yrs is some output, they can hardly keep up that prolific rate of writing
Very drum and bassy beat to it, great tune
Aussie new wave/punk band. Great fun
This is a proper punk gig, benefit show, oversold, crowd bumping up against the band, people literally hanging from the rafters. Totally envious of anyone who was at this show…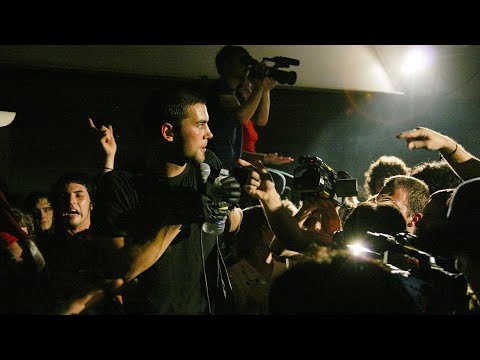 In ar gcroithe go deo is probably the worst song in their portfolio.
Do bands have 'Portfolios' now Father?
Is Discography okay for you? Either way it's a shite song and Radiohead churned out something similar in their musical wanking phase after Ok Computer.
I thought that at first but it grew on me.
They opened up their gig in the Iveagh Gardens with it.
I like them as a band. I saw them a couple of times in Atlanta. Yer man 'Sun' has some accent for a lad from Barrow in Furness.